Today (May 5) we are in Juneau for a few hours. When we are in port, I try to find a coffeeshop or some other location with wifi so that I can get online and post an update. We usually also have cell service for a few hours before and after we arrive. However, once we are truly underway, I lose connection with my online world and that is not a bad thing. We are surrounded on all sides by amazing beauty. So many mountains. So many islands.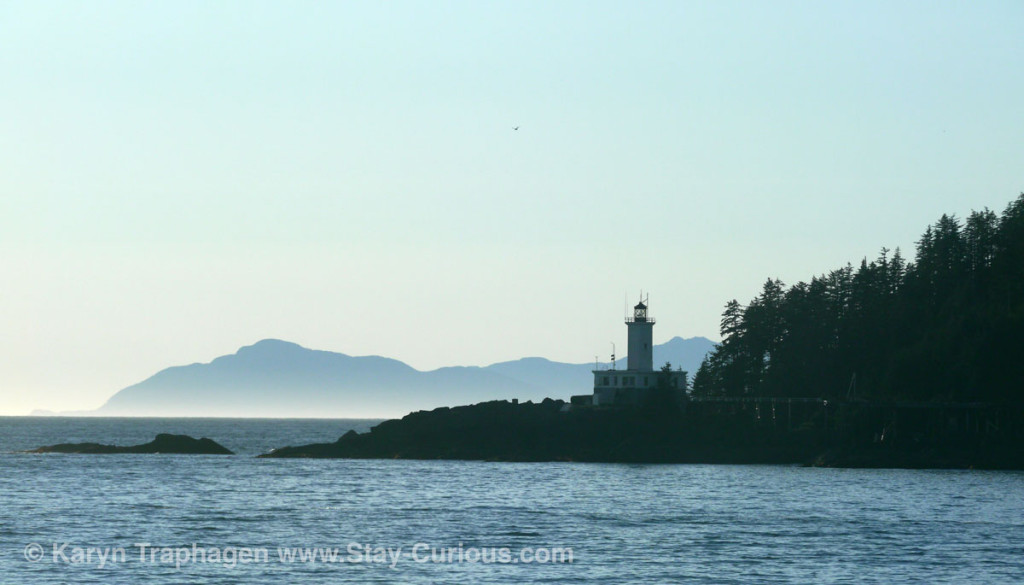 Yesterday we had our first sighting of humpback whales from the ship. A few people also saw a pair of porpoises. When we are close to the shore, it is easy to see eagles and other birds. I don't go anywhere without my binoculars (you never know when something will beg for a closer look).
There are 100 passengers on the ferry. The capacity is 499. This makes it feel somewhat empty. But it also makes it easier to strike up conversations and to find uncrowded places on the ship. Even the theatre (which seats about 50-75) is never full. Normally there would be tents filling the solarium and upper decks. But right now there is plenty of room and people are making themselves at home easily (I especially like the hammocks that were set up from the solarium rafters).
Speaking of the theatre. We watched two more documentaries on Monday. One was very interesting and well done, about the Alaska Marine Highway history. The other was old, not as informative as it could have been, and rather poorly crafted. I should have stayed on the deck scanning the horizon. Everywhere you look you see something breathtaking.
I did miss one unfortunate incident as we pulled out of Ketchikan. Apparently a float plane had problems on a landing and not far from the docks it tipped over and then was submerged upside down. Fortunately, since it was close to the docks, it was able to be secured by a cable and brought close. They will need some equipment to right it. Speculation was that a pontoon filled with water. We hope everyone got out ok. There are several pilots on our ship and they were all talking about other difficulties with landings. Nevertheless, air travel will always continue because it is essential for the rural villages and areas that have no other connection to the outside.
I met a couple from Sydney (Susan and Dieter). They are visiting Alaska for the first time and are fortunate to be staying 5 weeks. It was fun to hear their reactions to the scenery, the wildlife, and the differences in weather (they are heading into winter back in Australia). Amazingly, we have had sunny, warm (for an Alaska spring) weather for the past 2 days, with only one area of sprinkles. Today as we arrived in Juneau, the sky was completely clear, and a full moon hung above the mountains.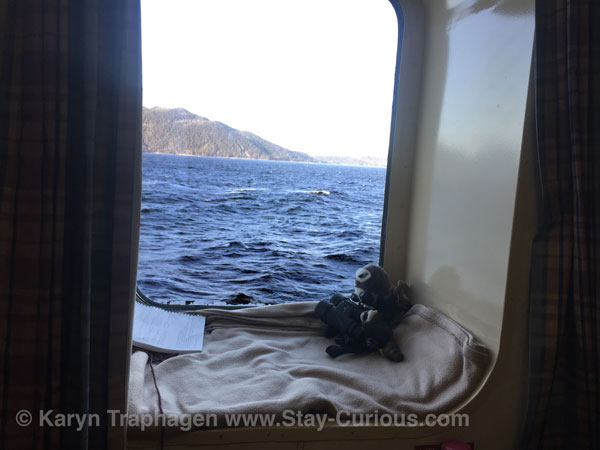 The best part of my tiny cabin/stateroom on the ferry is the window. It has a depth of at least 18 inches, so it feels like a windowseat. Although it is high and I have to climb up into it, I like to sit in the window and watch the sea go by. I put a blanket in the window so I could sit and read or look out the window to make sure I don't miss anything. Unfortunately, there are two panes of thick glass, so it makes photos distorted. I've tried to take some photos when I see something that I need to quickly snap, but I need to run up on the deck if I want to get better photos.
This post is dedicated to Eric and Sally. Eric was a commercial halibut fisherman for over 35 years. They live in Juneau and were departing the ferry today. They kindly gave me a ride into town. They are an amazing couple and full of stories. I hope I meet many more people like them.