Road Trip Day 5: Bozeman, MT to Calgary, Alberta (505 miles)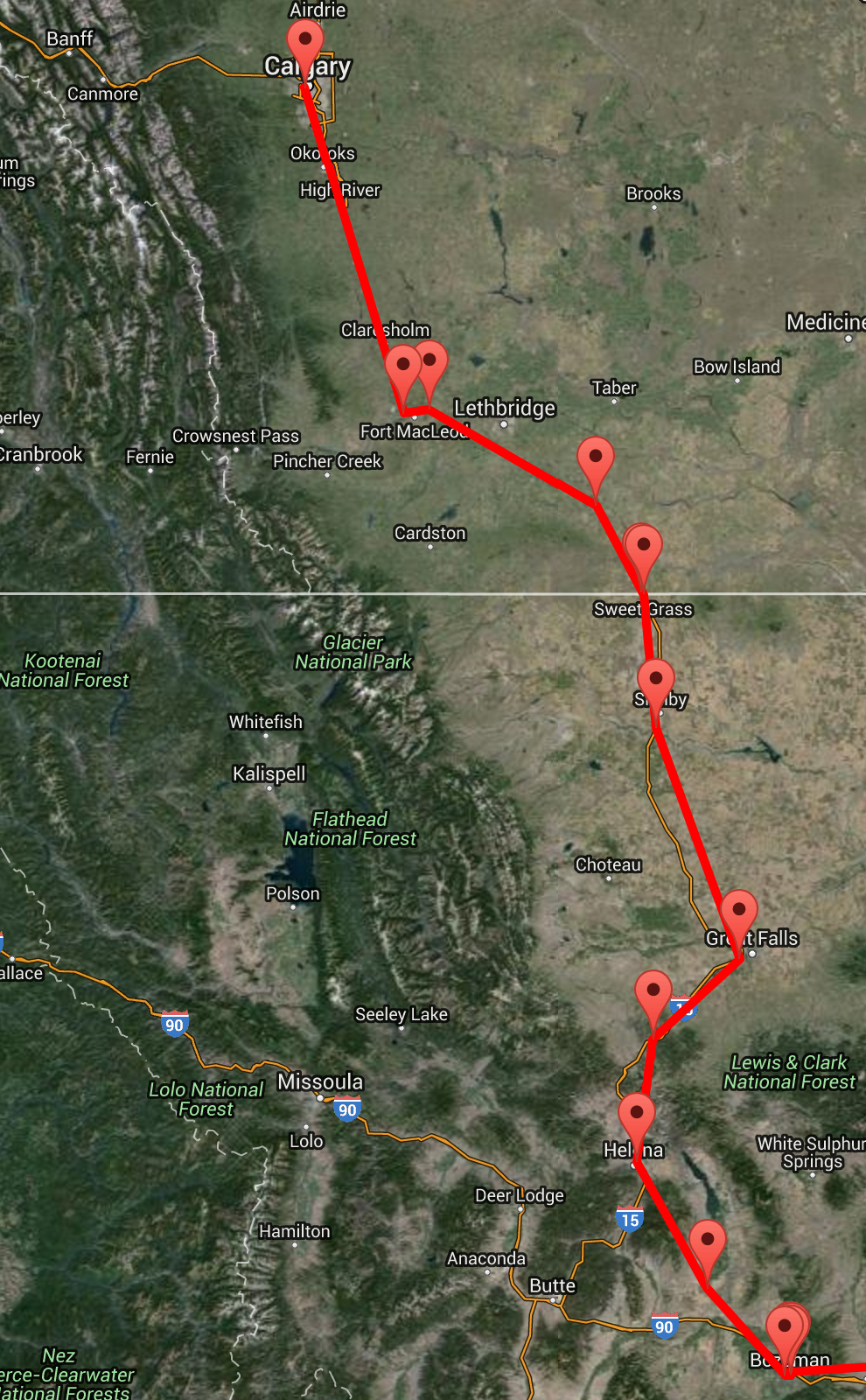 Slept in a little this morning (6:30am) and spent time with Rachel, enjoying a leisurely coffee, pastry, and crepe at a French cafe in Bozeman. Then we headed out for a quick hike up Pete's Hill (Burke Park). The view of the surrounding mountains was matched by the splendor of the tiny wildflowers blooming at our feet.
I drove through the Rockies today and I wish I could show you pictures. There were no turnouts or scenic overlooks to stop and take photos. But trust me, the name "rocky" is apt. The strata are just so stunning. The road cuts through the rock and reveals eons of history.
After zig-zagging across the Missouri River a few times, I headed back into the flat grasslands of northern Montana. I think some of these farms and ranches were the size of the city of Durham. There was not a cloud in the sky and I could see for miles and miles and miles.
In addition to farmland and pastures, I saw some oil fields. The rigs were much smaller than I imagined.
Wildlife is starting to pick up. The smallest creature I saw today (other than the poor schmooshed insects on my windshield) were two little prairie dogs at a rest area in the grasslands of Alberta. The largest animal I saw (other than at the truck stop) was a huge elk in Montana!!! I was so excited to see that elk. There were signs to watch for bighorn sheep, but I didn't see any.
Craziest sign: "Head-Smashed-In Buffalo Jump." OK, I had to look that one up. Apparently it is a cliff that indigenous people drove buffalo over to kill them. https://en.wikipedia.org/wiki/Head-Smashed-In_Buffalo_Jump
PSA for today: road signs in Canada are TINY. You have to really look to see the speed limit, or other driving instructions. Oh, and apparently not everyone entering Canada realizes that they use the metric system. There was a sign shortly after the border check that said "Speed limits are in KILOMETRES." As if, someone once tried to defend their speed of 110 mph as following the signs. In the driver's defense, there are no units on any of the signs. It just says "Maximum 110."
Calgary roads are incredibly complex. They have some kind of loopy-doopy thing that is no where as simple as a clover-leaf. However, they make up for it with a really cool downtown area.