I was glad to hear that the roads that were closed due to wildfires were now open and that I would not have to detour or wait to get to Fort Nelson.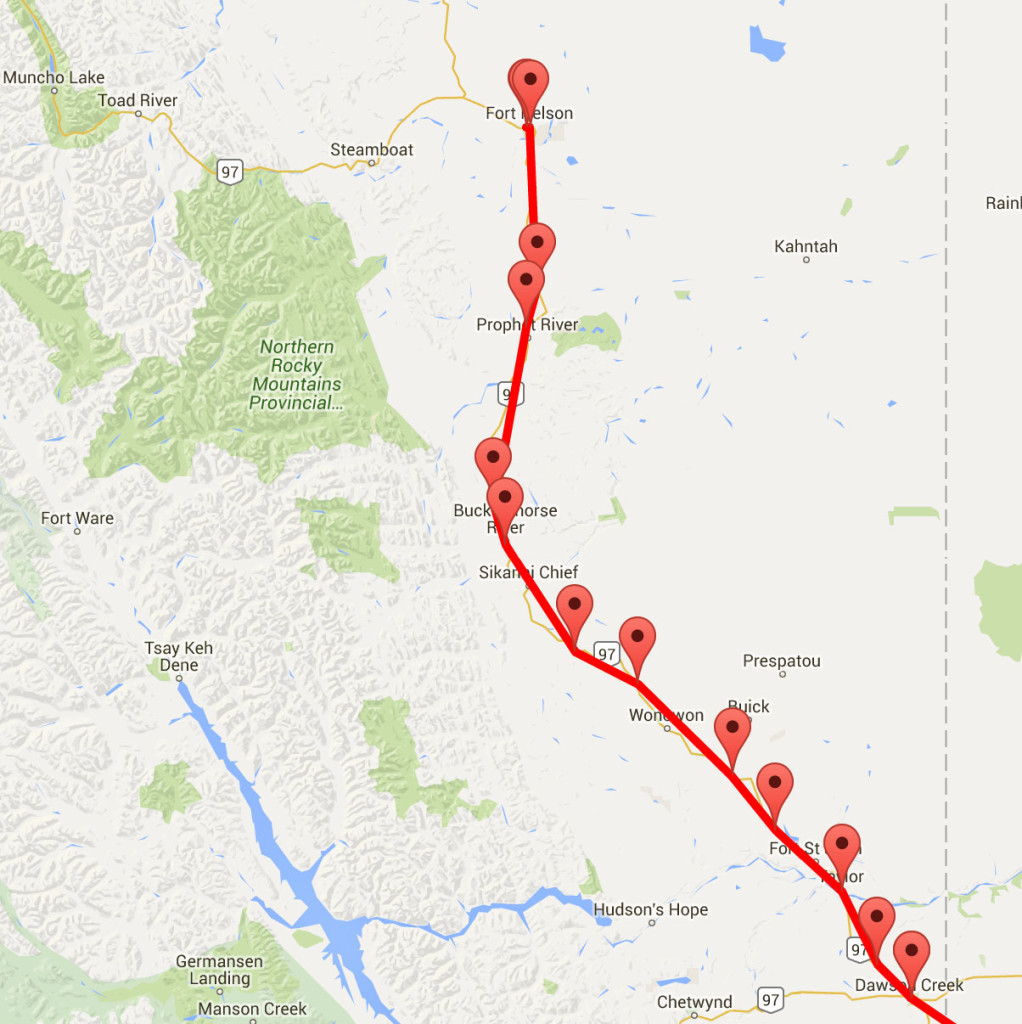 Although I didn't see fire, I did drive through smoke and later through a large burn area. The trees were burnt all the way to the edge of the highway on both sides. And then just as quickly as the green turned to black, it turned back to green again. The fire is so fickle. Earlier this week there were 38 fires burning in NE BC, today they are down to 33. Tomorrow night some rain will come into the area and will help the effort to control the fires.
Most of the people staying at the local hotels are not tourists. Most are energy workers or road construction workers. There are two main ways that you can spot a hotel that hosts these seasonal/temporary/regional workers: 1) breakfast and coffee begins at 4am, and 2) there is a basket of little blue disposable booties at the door to put over your muddy work boots. Some hotels even have a mudroom before you enter the lobby. The breakfasts are pretty substantial (and come with signs that ask guests to not pack a lunch from the breakfast fixings). Many of the hotels also have "customer appreciation" at the end of the day. Instead of the typical urban offering of a happy hour with wine, the hotels provide pizza and beer for anyone staying at the hotel.
When the road sign says to be aware of an Extreme Grade Ahead, they mean it. After traveling for miles and miles along flat prairie and farmland punctuated by the occasional forest stand (usually a logging enterprise), the precipitous drop (and winding road) into a canyon to cross over the Peace River can give you heart palpitations and white knuckles. The only thing worse than driving down these roads along with 18-wheelers is being able to see the Taylor Bridge that will get you across the river every inch of the drive. You can see it for miles. You can worry about it for a long time. This two-lane, high-in-the-sky bridge taunts you. And just when you think it can't get worse, you come up to the edge of it and see that it is a metal grate all the way across. No pavement. You can see down into the canyon and at the river the entire time. Sigh.
I'm told that tomorrow I will be entering a highly-likely-to-see-wildlife area (buffalo herd, rock sheep, and others). Today I saw lots of wildlife… signs. But not much wildlife. I saw signs for caribou, moose, deer, and even wild horses. I did see one small, scrawny, black bear on the side of the road. Unless it was a huge, bulbous, ugly dog.
Fort Nelson is another of those hubs for the energy workers (gas, oil), loggers, and road construction workers. But the prosperity that the town gains from supporting these industries is put to good local use. Their Fort Nelson Aquatic Center was a wonderful surprise. For $5 (CAD) I was able to use the facilities. They have a large warm pool (with submerged benches along some shallow areas), a separate lap pool (at a cooler temperature), a climbing wall over the water (!), a 3-story spiral water slide, a huge hot tub, steam sauna, dry sauna, and every kind of amenity you could want. It was immaculately clean. The lifeguards did not sit on benches, they walked around and were actively engaged in their watchfulness. The Rec Center also has an ice rink, a curling rink, a huge indoor climbing wall, an elevated walking track, and an indoor playground.
Miles driven so far: 3,647. Onward!
TrackMyTour link: https://trackmytour.com/zF18P