Minneapolis, MN to Dickinson, ND (515 miles): Quick notes from today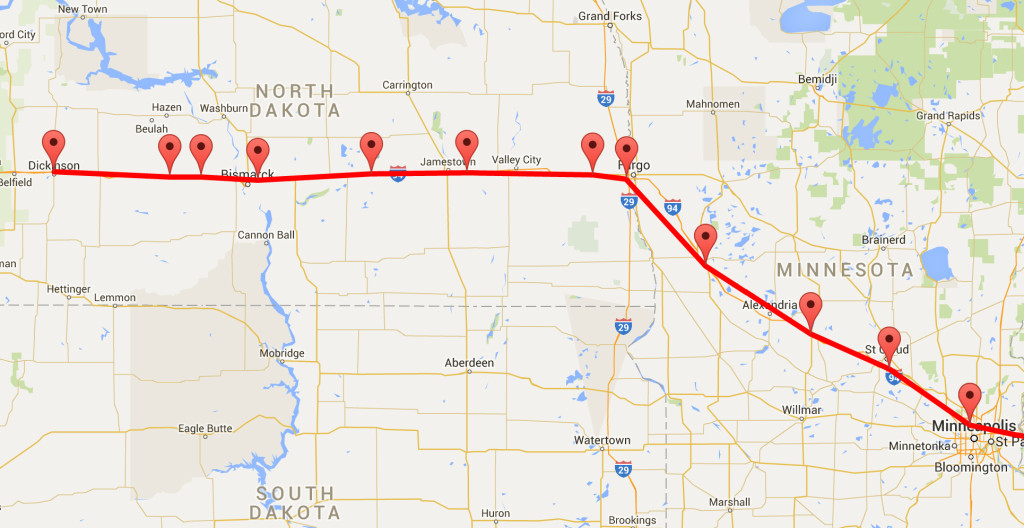 Trekked across Minnesota and most of North Dakota today. So many farms and ranches. The open range in ND was not something I was expecting.
Most-Inspiring-Town-Name of the Day: Bloom, ND.
You know you are have been on a long, straight highway when you start to test your wheel alignment just for fun (was surprised that I sometimes pulled to the right, but it could have been the wind). Also, when the curves in the road are special attractions.
75 MPH. Zip.
I re-established my skill to determine the temperature of the outside air by detecting the amount of aroma produced from the freshly spread manure on farm fields. I honed this skill in Cortland, NY and the smell always reminds me of Spring.
Thousands of birds swarming over farm fields with ribbons of undulating grace. Mesmerizing.
Everyone is super friendly. And they are universally amazed that I'm driving from NC to AK.
There is a huge cow on a hill (one of the only ones I saw–the hill, not the cow) in New Salem (see photo).
I nearly ran over a SUM (Small Unidentified Mammal). I'm choosing to believe it scurried away in time. Hey, I checked, and my front wheels are clean!
A tumbling, tumbleweed actually rolled across the highway right in front of me. How poetic.
Near Dickinson there is a place called the Enchanted Highway. There are HUGE scrap metal sculptures. I only saw a few, but I'm tempted to go back and look for more (especially after I Googled the Enchanted Highway. See the "Geese in Flight" photo below.
Tomorrow I'll be heading to Bozeman, MT and will spend the night with one of my Tutka Bay Lodge crewmates from last year! Can't wait to see Rachel Esbjornson again!
Keep following along on the daily trek with this link:
https://trackmytour.com/zF18P
‪
#‎AlaskaGuideLife‬ ‪#‎RoadTrip2AK‬